News Release: December 01, 2005
Distinguished Screenwriter Lawrence Kasdan to Receive Screen Laurel Award at 2006 Writers Guild Awards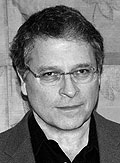 Award-winning screenwriter/director/producer Lawrence Kasdan will be honored as this year's recipient of the Screen Laurel Award presented by the Writers Guild of America, west, at the 2006 Writers Guild Awards ceremony on February 4, 2006.
"Most of us would be satisfied to have written one film that was seen by everyone on the planet. Lawrence Kasdan wrote a handful of them and made them masterworks to boot. He makes art. He makes blockbusters. He makes movies," said WGAw President Patric M. Verrone.
A filmmaker adept at bringing his own scripts to the screen, Kasdan has written or co-written nearly all of the acclaimed films he's directed, including favorites such as The Big Chill, Body Heat, and The Accidental Tourist. In addition, Kasdan has written or co-written some of the most successful films in motion picture history, including Raiders of the Lost Ark, The Empire Strikes Back, Return of the Jedi, and The Bodyguard.
A six-time Writers Guild Award and four-time Academy Award nominee, Kasdan has had critical and commercial success across three decades due to an ability to master a variety of screen genres, ranging from intimate human dramas (such as Grand Canyon) to ensemble comedies (Mumford) to expansive Westerns (Silverado).
Born in Miami Beach, Florida, and raised in West Virginia, Kasdan attended the University of Michigan, where he four times won the college's prestigious Hopwood Award in Creative Writing, which helped pay for his education. For the next five years, Kasdan worked as an ad-agency copywriter while trying to sell his scripts. His sixth screenplay, The Bodyguard, was the first to be purchased, in 1977.
Kasdan's original screenplay for Continental Divide (a 1981 romantic comedy starring the late John Belushi) caught the attention of Steven Spielberg, and the director introduced him to George Lucas, who asked Kasdan to pen the screenplay for 1981's Raiders of the Lost Ark (from a story by Lucas and Phillip Kaufman), which received a WGA nomination (1982, Screen, Comedies Written Directly for the Screen).
When screenwriter Leigh Brackett passed away before finishing the script for 1980's Star Wars sequel The Empire Strikes Back, Kasdan took over to complete the screenplay (from a story by Lucas), which received a WGA nomination (1981, Screen, Comedies Adapted from Another Medium). He would later co-write the third installment in the Star Wars franchise, 1983's Return of the Jedi, with Lucas.
The worldwide success of Raiders and Empire sped Kasdan to his own directorial debut with his modern-day crime-noir, Body Heat (1981), which made stars out of then-little-known actors William Hurt and Kathleen Turner. The steamy romantic thriller earned Kasdan yet another WGA screenwriting nomination (1982, Screen, Dramas Written Directly for the Screen). Next, Kasdan co-wrote and directed the '80s favorite, The Big Chill. Nominated for three Academy Awards, including Best Picture and Best Writing (Screenplay Written Directly for the Screen), the 1983 hit film also earned a Writers Guild Award (1984, Screen, Comedies Written Directly for the Screen), shared with co-writer Barbara Benedek.
After the high-spirited Western Silverado (1985), which Kasdan directed, produced, and co-wrote with his brother, Mark, Kasdan wrote and directed the acclaimed drama The Accidental Tourist (1988), based on the novel by Anne Tyler and adapted with Frank Galati. Named Best Picture of the year by the New York Film Critics Association, the film received four Academy Award nominations, including Best Picture and Best Writing (Screenplay, Based on Material from Another Medium), and earned Geena Davis an Oscar for Best Supporting Actress. Kasdan also shared a WGA screenwriting nomination (1989, Screen, Best Screenplay, Based on Material Previously Produced or Published).
Following 1990's black comedy I Love You to Death (the first film Kasdan directed that he didn't write, with a screenplay by John Kostmayer), Kasdan collaborated with his wife, Meg, on 1991's Grand Canyon, which earned the husband/wife team a Writers Guild nomination for Best Screenplay (Written Directly for the Screen), as well as Academy Award and Golden Globe nominations for Best Original Screenplay. The film won the Golden Bear Award for Best Picture at the 1992 Berlin Film Festival.
After seeing his 1977 screenplay The Bodyguard become a 1992 theatrical smash, which grossed $400 million worldwide and spawned a mega-platinum soundtrack album, Kasdan directed the epic Western biography, Wyatt Earp (1994), co-written with Dan Gordon. Kasdan followed with the Meg Ryan-starring romantic comedy French Kiss (1995), from a screenplay by Adam Brooks, and made his theatrical stage debut that same year as director of Four Dogs & a Bone, a dark comedy written by John Patrick Shanley, which launched the newly renovated Geffen Playhouse in Los Angeles.
In 1999, Kasdan wrote and directed the quirky comedy Mumford, which earned him the Best Screenplay Award at the San Sebastian Film Festival. Most recently, Kasdan helmed the sci-fi thriller Dreamcatcher (2003), based on the Stephen King novel and adapted for the screen with William Goldman. Kasdan will produce and direct his own adaptation of the Richard Russo novel The Risk Pool, in association with Tom Hanks and Gary Goetzman's Playtone Productions, Stone Village Entertainment, and Castle Rock Entertainment.
Awarded to a guild member who has advanced the literature of the motion picture and made outstanding contributions to the profession of the screenwriter, the Screen Laurel has been received by such esteemed writers as Billy Wilder, Horton Foote, Preston Sturges, Joseph L. Mankiewicz, John Huston, Blake Edwards, Mel Brooks, John Michael Hayes, and last year's honoree, David Mamet.