News Release: December 15, 2016
Oliver Stone to Receive WGAW's 2017 Laurel Award for Screenwriting Achievement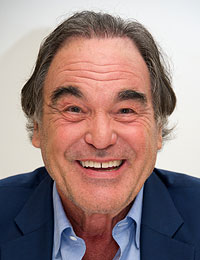 Legendary screenwriter-director Oliver Stone, whose films include Platoon, Born on the Fourth of July, JFK, and Wall Street, is set to receive the Writers Guild of America West's 2017 Laurel Award for Screenwriting Achievement in recognition of his extraordinary career and body of work. He will be honored at the Guild's awards show on Sunday, February 19, at The Beverly Hilton in Beverly Hills.
"Oliver Stone may be our most committed screenwriter, using an unparalleled sense of conflict and drama to define the past half century," said WGAW President Howard A. Rodman. "Stone's Vietnam trilogy – Platoon, Born on the Fourth of July, Heaven & Earth – not only illuminated the war, but made us face its consequences. His unofficial and extraordinary history of the 1960s and 1970s – from JFK and The Doors through Nixon and Wall Street – wove a coherent narrative from incoherent facts. His dialogue is always memorable: think of Gordon Gekko's 'greed is good,' or Tony Manero's 182 'fucks' in Scarface. But even Stone's most amoral characters are, in the end, like us: all too human. Stone has held a mirror up to our times, and dares us again and again to look at our nation – and ourselves – without turning away."
"As a young screenwriter I remember seeing so many I admired graced with the Laurel Award, and I never expected I'd be considered their peer. I am most honored to accept this great award," commented Stone.
Academy Award winner Stone has written and directed nearly two dozen feature films over the course of his career, including some of the most influential and iconic movies of the last several decades.
His trio of acclaimed Vietnam war-era films are informed by his own real-life experience serving in the U.S. Army Infantry in Vietnam in 1967-68, having been wounded twice in combat and ultimately earning the Bronze Star for Valor, Purple Heart, and other medals of honor during his military career. 1987's Platoon, written and directed by Stone, earned him Academy Awards for Best Director and Best Picture, and an Oscar nomination for Best Writing, Screenplay Written Directly for the Screen, in addition to a Golden Globe for Best Director, a BAFTA Award for Best Direction, and WGA and Golden Globes screenplays noms.
1989's Born on the Fourth of July (Screenplay by Oliver Stone & Ron Kovic, Based on the Book by Ron Kovic) memorably chronicled Vietnam vet turned anti-war activist Ron Kovic's personal post-combat struggle as a paraplegic, exploring what it means to be American along the journey. The acclaimed Tom Cruise-starring film earned Stone a pair of Oscars for Best Picture and Best Director, as well as an Oscar nom for Best Writing (Screenplay Based on Material from Another Medium), Golden Globe Awards for Best Director and Best Screenplay, and a WGA adapted screenplay nomination.
The final movie in Stone's powerful Vietnam trilogy, 1993's Heaven & Earth (Based on the Books When Heaven and Earth Changed Places by Le Ly Hayslip with Jay Wurts and Child of War, Woman of Peace by Le Ly Hayslip with James Hayslip), follows the harrowing true story of a Vietnamese village girl who survives a life of suffering and hardship during and after the Vietnam war – her own tumultuous relationships with the men in her life providing a potent metaphor for U.S.-Vietnamese political relations.
Stone's canon of complex and challenging films, often exploring specific eras and controversial topics, include such thought-provoking movies as 1991's JFK (Screenplay by Oliver Stone & Zachary Sklar, Based on the Books The Trail of the Assassins by Jim Garrison and Crossfire: The Plot That Killed Kennedy by Jim Marrs), Stone's effort to both unravel and illuminate the labyrinth of conspiracy theories surrounding 1963's Kennedy assassination, earning Oscar noms for Best Picture, Best Director, and Best Writing (Screenplay Based on Material Previously Produced or Published), as well as a Golden Globe Award for Best Director, a Golden Globe screenplay nom, and a WGA adapted screenplay nom; 1995's penetrating Presidential biopic Nixon (Written by Stephen J. Rivele & Christopher Wilkinson & Oliver Stone), for which he shared an Oscar screenplay nomination; Natural Born Killers (Screenplay by David Veloz & Richard Rutowski & Oliver Stone, Story by Quentin Tarantino), a dark satire our culture's fixation on media and violence, which earned Stone a Golden Globe Best Director nom; 1991 rock biopic The Doors (Written by J. Randal Johnson and Oliver Stone), a lyrical look at the '60s filtered through the prism of Jim Morrison's seminal band; 1986's explosive political indictment, Salvador (Written by Oliver Stone & Richard D. Boyle), deeply critical of the U.S. government's involvement in Central America, for which he shared an Academy Award nomination (Best Writing, Screenplay Written Directly for the Screen); 1987's Wall Street (Written by Stanley Weiser & Oliver Stone), his bold expose of '80s excess and America's new brand of capitalism, and 1988's dark "shock jock" true-life tale, Talk Radio (Screenplay by Eric Bogosian & Oliver Stone, Based on the Play "Talk Radio" Created by Eric Bogosian & Tad Savinar, Written by Eric Bogosian, and the Book Talked to Death: The Life and Murder of Alan Berg by Stephen Singular).
Stone's films also include his unconventional view of professional sports, Any Given Sunday (1999, Screenplay by John Logan and Oliver Stone, Screen Story by Daniel Pyne and John Logan), epic historical drama Alexander (2004, Written by Oliver W. Stone and Laeta E. Kalogridis and Christopher Kyle), the timely sequel Wall Street: Money Never Sleeps (Written by Allan Loeb and Stephen Schiff, Based on Characters Created by Stanley Weiser & Oliver Stone), which chronicled the 2008 stock market crash and Gordon Gekko's fate after prison; the drug cartel dark comedy Savages (2012, Screenplay by Shane Salerno & Don Winslow & Oliver Stone, Based on the Novel by Don Winslow), and most recently real-life political thriller Snowden (Screenplay Kieran Fitzgerald & Oliver Stone, Based on the Book The Time of the Octopus by Anatoli Kucherena; Based on The Guardian Book by Luke Harding), in which Stone explores timely issues of privacy and surveillance through the case of military whistleblower Lt. Edward Snowden, accused of leaking millions of U.S. government documents and now in Russian exile.
His other screenplay credits include such diverse movies as comic book blockbuster Conan the Barbarian (1986, Written by John Milius and Oliver Stone, Based on the Character Created by Robert E. Howard), iconic gangster drama Scarface (1983, Screenplay by Oliver Stone, Based on Book by Armitage Trail), crime thriller Year of the Dragon (1985, Screenplay by Oliver Stone & Michael Cimino, Based on the Novel by Robert Daley), Eight Million Ways to Die (1986, Screenplay by David Lee Henry and Oliver Stone, Based on the Book by Lawrence Block), and the Madonna-starring, Broadway-to-screen musical Evita (Screenplay by Alan Parker and Oliver Stone, Based on the Musical Play "Evita," Lyrics by Tim Rice, Music by Andrew Lloyd Webber).
While still in his '20s, Stone made his feature film screenwriting and directing debut with 1975's horror yarn Seizure (Screenplay by Oliver Stone & Edward Asher Mann, Story by Oliver Stone) – and would later revisit the horror genre with the 1981 thriller The Hand (Screenplay by Oliver Stone, Based Upon the Book The Lizard's Tail by Marc Brandel).
A WGAW member since 1977, Stone first received industry accolades for his acclaimed screenplay for the 1978 Turkish prison drama Midnight Express (Screenplay by Oliver Stone, Based on the Book by William Hayes with William Hoffer), earning him an Academy Award (Best Writing, Screenplay Based on Material from Another Medium), a Writers Guild Award (Best Drama Adapted from Another Medium), and a Golden Globe Award (Best Screenplay – Motion Picture) for his screenplay.
Stone's additional directing credits include World Trade Center (2006), depicting the true story of our nation's few 9/11 survivors; 2008's no-holds-barred political biopic W., his satirical skewering of former U.S. President George Bush; and pitch-black thriller U-Turn (1997). He has also produced or co-produced a dozen films, including The People vs. Larry Flynt (1996), The Joy Luck Club (1993), and Reversal of Fortune (1990). On the small screen, Stone shared a 1995 Primetime Emmy Award (Outstanding Made for Television Movie) for executive producing the telefilm Indictment: The McMartin Trial.
His documentaries include a trio of films focusing on late Cuban leader Fidel Castro (2003's Comandante, 2004's Looking for Fidel, and 2012's Castro in Winter), as well as 2009's South of the Border, featuring Hugo Chavez and six other Presidents in a continent undergoing seismic social changes, and Stone's tribute to the late Venezuelan leader and personal friend, Mi Amigo Hugo (2014). He also made 2003's Persona Non Grata, examining Israel-Palestine relations. Stone's latest work includes the ambitious Showtime doc series, The Untold History of the United States, a monumental, 12-hour interrogation of the conventional "triumphalist" narrative of U.S. history.
Born on September 15, 1946, in New York City, Stone launched his writing career early on, penning his first novel – A Child's Night Dream – when he was only 19. The book, ultimately published in 1997 by St. Martin's Press, is set to be adapted and directed by Stone's own son, Sean. After returning from Vietnam, he completed his undergraduate studies at New York University Film School in 1971. His early jobs included such diverse stints as a taxi driver, merchant marine, messenger, advertising salesman, and, finally, production assistant, which provided a segue to his prolific, celebrated filmmaking career.
Awarded to a Writers Guild member who has advanced the literature of motion pictures and made outstanding contributions to the profession of the screenwriter, past recipients of the WGAW's Laurel Award for Screenwriting Achievement include Elaine May, Harold Ramis, David Mamet, Tom Stoppard, Paul Mazursky, Lawrence Kasdan, Robert Benton, Barry Levinson, Steven Zaillian, and Eric Roth.